---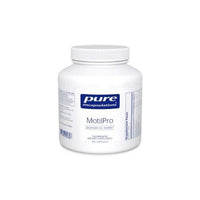 MotilPro promotes advanced gut signaling for healthy gut motility. MotilPro supports serotonergic and cholinergic neurotransmission, which stimulates healthy gut motility.
Made with hypoallergenic, vegan ingredients, GMO Free  and Certified Gluten-Free by the Gluten-Free Certification Organization, www.gluten.org
Supplement Facts
Amount Per Serving
Three (size 00) vegetarian capsules
Recommended Dosage
3 capsules, 1-2 times daily, between meals.
Ingredients Based Off Serving Size
Vitamin B6 (as pyridoxal 5' phosphate) (activated B6)6.7 mg
Ginger (Zingiber officinale) extract (root)1,000 mg
(standardized to contain 5% gingerols)
Acetyl-l-carnitine (free-form)500 mg
5-Hydroxytryptophan50 mg
Other ingredients: vegetarian capsule (cellulose, water), ascorbyl palmitate
Warning

Not to be taken by pregnant or lactating women. If you have any health condition or are taking any medication, particularly psychiatric medications, consult your health professional before use. Do not use concurrently with antidepressants.
These statements have not been evaluated by the Food & Drug Administration. These products are not intended to diagnose, treat, cure or prevent any disease.
Provides weight management support as part of a healthy lifestyle with a reduced-calorie diet and regular exercise.
The information contained herein is for informational purposes only and does not establish a doctor-patient relationship.