---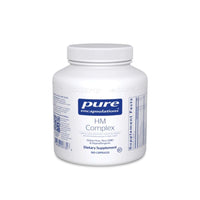 HM Complex promotes the body's natural detoxification of heavy metals present from common, mild environmental exposure.
Made with hypoallergenic, vegan ingredients, GMO Free and Certified Gluten-Free by the Gluten-Free Certification Organization, www.gluten.org
Key Benefits:
Supports body's natural detoxification response to mild exposure to common heavy metals.
Promotes antioxidants to help enhance immune defenses.
Made with high-quality ingredients backed by verifiable science
Supplement Facts
Amount Per Serving
Three (size 00) vegetarian capsules
Recommended Dosage
3 capsules daily, between meals, or as directed by a health professional
Ingredients Based Off Serving Size
Zinc (as zinc citrate) 10mg
Selenium (as selenomethionine) 1,00 mcg
Sodium (as part of modified citrus pectin) 50 mg
Postassium (as part of modified citrus pectin) 70 mg
PextaSol-C® modified citrus pectin 1,000 mg
Chlorella (Chlorella spp.) powder (cracked cell wall) 300 mg
Broccoli (Brassica oleracea italica) sprout concentrate (whole plant) 250 mg
(standardize to contain a minimum of 1,000 mcg sulforaphane)
N-Acetyl-I-cysteine (free-form) 200 mg
I-Methionine (free-form) 200 mg
Alpha lipoic acid (thioctic acid) 100 mg
Other ingredients:
vegetarian capsule (cellulose, water), ascorbyl palmitate
PextaSol-C® is a registered trademark of EcoNugenics®, Inc.
Warning
Storage: Store in a cool, dry place.
Not to be taken by pregnant or lactating women. If you have any health condition or are taking any medication, particularly psychiatric medications, consult your health professional before use. Do not use concurrently with antidepressants.
These statements have not been evaluated by the Food & Drug Administration. These products are not intended to diagnose, treat, cure or prevent any disease.
Provides weight management support as part of a healthy lifestyle with a reduced-calorie diet and regular exercise.
The information contained herein is for informational purposes only and does not establish a doctor-patient relationship.