---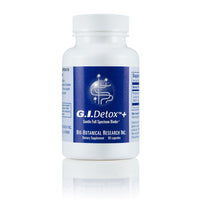 Benefits
Supports healthy detoxification and full-body cleansing

Assists in "mop up" of biofilm components

Supports clearance of mold metabolites

Supports a more comfortable cleansing experience

May reduce bloating and gas

Supports mental clarity
Features
Professional-grade ingredients

Contains widely accepted and recommended binders

Multi-ingredient formula provides broad-acting binding activity

Concurrent use of Biocidin® and Proflora®4R often recommended

Contains ingredients known to assist in detoxification of environmentally and endogenously produced metabolites
Suggested Use
1 capsule on an empty stomach with a full glass of water or as directed by a healthcare professional. Take 1 hour apart from other medications and supplements.

Warning: Do not use during pregnancy. Consult your physician before using any supplement, especially if you are nursing, have a medical condition, or are taking medication. Discontinue use should adverse reactions occur. Keep out of reach of children.

Store in a cool dry place.
Ingredients
Proprietary Herbal Blend: Zeolite clay, Activated Charcoal, Aloe Vera (inner leaf), Silica (as Monomethylsilanetriol), Apple Pectin, Humic Acid, Fulvic Acid

Other Ingredients: Vegetable capsule (Hydroxypropyl methylcellulose and water)

This product is made without dairy, gluten, soy, corn, animal products, artificial coloring or flavoring.
Extra
HELPS CLEANSE AND SUPPORTS MICROBIOME BALANCE
G.I. Detox™+ is a combination of nutrients formulated to provide broader activity than a single-ingredient product. Zeolite clay, activated charcoal, and MMST silica are all binding agents with proven efficacy. The other nutrients in G.I. Detox™+ support healthy digestion and elimination. The full-spectrum binding of G.I. Detox™+ provides a simple solution for environmental and internally produced detoxification. G.I. Detox™+ is an important part of any protocol that includes Biocidin®, as well as any detoxification protocol.