---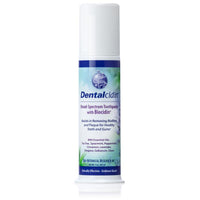 Benefits
BROAD-SPECTRUM BOTANICALS FOR MAINTAINING HEALTHY RESPIRATION

Biocidin®TS is an easy-to-use throat spray that contains our broad-spectrum, proprietary blend of 17 herbs and essential oils. Convenient for taking with you on the go, Biocidin®TS throat spray empowers you with a clinically proven way to promote a healthy immune response, giving your body the support it needs to do its best work.
Features
Professional-grade botanicals

Laboratory tested for potency and purity

Contains Biocidin® botanical formula

Contains essential oils for additional benefits Ideal for daily use

Light minty flavor suitable for all ages

Made without fluoride, gluten, dairy, corn, soy, sugar, and artificial flavors and colorings
Suggested Use
For adults and children 2 years of age and older, use 1 pump or 1/2 inch ribbon on your toothbrush.
Ingredients
Sorbitol, Biocidin® (Bilberry extract, Noni extract, Milk Thistle, Echinacea Purpurea (extract) & Angustifolia, Goldenseal, Shiitake, White Willow Bark, Garlic, Grape Seed extract, Black Walnut (hull and leaf), Raspberry, Fumitory extract, Gentian, Tea Tree oil, Galbanum oil, Lavender oil, Oregano oil), DI Water, Vegetable Glycerin, Dental Hydrated Silica, Sodium Lauroyl Sarcosinate (coconut derived). Cellulose Gum, Natural Organic Spearmint Flavor, FreshTM Essential Oil Blend (Mentha Piperita (Peppermint oil), Melaleuca Alternifolia (Tea Tree oil), Cinnamomum Zeylanicum (Cinnamon oil), Syzglum aromaticum (Clove Bud oil), Royal Jelly, Aloe Vera Gel, Alcohol (potato).
Extra
ASSISTS IN REMOVING BIOFILMS (PLAQUE) FOR FRESHER BREATH AND A BRIGHTER SMILE
When it comes to oral care, plaque (a biofilm) is a universal challenge. Dentalcidin™ toothpaste contains Biocidin®, a botanical formula with a strong track record in removing biofilms. Dentalcidin™ toothpaste gently and effectively cleans and whitens teeth, while supporting healthy microbial balance. Essential oils support fresh breath. For the greatest benefit, use Dentalcidin™ toothpaste with Dentalcidin™LS oral rinse.